Time. It's something we think we have control over, something that's measurable, a component of life in which we feel we have an infinite supply of. But in reality time is fleeting, it's unpredictable, and at any given moment it can be taken away from you in a single breath…
In all of my years, I have never experienced a death in our family that has deeply affected me until recently, when my one and only grandfather, our beloved Lolo as we call him in Filipino, died. We were very close and he was the only grandfather I've ever known. The memories I have of him are still fresh in my mind, as if they only happened yesterday. But in actuality, the last time that I saw and spent time with my grandfather before he passed was about a year ago at my son's first birthday.
At first we were separated by land and sea with about 8000 miles spanning between us. This was when we were continents apart. Then last year when my family and I moved to the Philippines, that distance dwindled down to less than 200 miles by boat ride to the provinces, and sometimes to a mere 20 miles when he would visit my relatives in the next city over from where we lived. I thought for sure, this would allow for more opportunities and occasions for us to get together with my grandparents. Since I last saw my grandfather at my son's birthday, I've wanted to see him again but would always miss the opportunity when he'd be in town. His visits were short, unannounced and usually due to handle some business or personal family matter. I'd find out too late and would miss him by a day or so once he'd gone back to the province. My sentiments would usually be, "Well, there's always next time."
On October 12th, my grandparents were back in town and due to heavy rains and possible hurricanes all fares to the provinces were cancelled the following day. When I found out that they're departure would be postponed till the 14th, I made plans to visit them along with my husband and children. The next morning I tried contacting my grandfather on his cell phone, but didn't get any response. The weather then turned from pleasant to grisly as heavy rains began to pour down. My husband and I thought over the one and a half hour trip (yes, it takes that long to travel less than 20 miles if not longer, in Manila traffic) and decided, for safety as well as convenience, to just stay in for the day. After all "there's always next time."
But little did I know that after this visit there wasn't going to be a "next time". That following weekend my grandfather died of heat stroke.
I missed him again, and this time it was for good. As I'd mention before, time is not in our hands. Time cannot be governed by wishful thinking nor human desires, it is and will always be the most precious yet perishable possession we have.
I found out on the morning of October 22nd that my grandfather had just died a few hours before and at that moment a plethora of emotions filled every inch of my being. I was in disbelief, overwhelmed, confused, saddened, regretful and angry. As I let the news of my grandfather's passing settle in, I couldn't help but to shed outpouring streams of tears throughout the day. I immediately called my parents and sister in the US to break the news to them. My voice was shaky and I couldn't hold back the tears from falling as I spoke to my father and then sister, on the phone. My mother, who was my grandfather's second eldest child, took the news the hardest. She hadn't seen my grandfather in three years and was looking forward to seeing him in the next seven months at our family reunion. We have one every four years on my mother's side, but this coming reunion we'll be missing my lolo.
I was blessed to have been able to grow up with my grandfather. He and my grandmother lived with us for eight years back in the US when I was just a kid. He was a great man, hard working, God-fearing and humorous as well. One word I would use to describe my grandfather, oddly enough, is child-like. He was a bit mischievous at times, where he would blame broken figurines or half eaten desserts on me, thus getting me in trouble with my mom. He also loved to laugh. His laughter was so distinct and so unique, you could pin point it in a lineup of a hundred laughers. It resembled a cross between Donald Duck's voice and a machine gun fused as one and was very infectious.
My grandfather also portrayed child-like qualities in his faith. He was a prayerful man, deeply rooted in the word of God, and depended on it like no other. His faith in God brought him through and out of hard times. It made him a better husband, father, and human being. He never hesitated to give God the glory for everything good in his life. I'm very thankful for such a Godly heritage.
During my grandfather's week-long wake and viewing, hundreds of people came out of the woodworks to give testament of how my lolo touched their lives. He gave to charities and families in need; he helped support widows of close friends who passed away, paid for other families' children's schooling, and gave to whoever asked. He did all this without our knowledge. My grandmother didn't realize the extent of my grandfather's philanthropy until people spoke at his eulogy. He truly defined the very essence of compassion and love.
My grandfather left such an incredible legacy. We would often refer to him as Father Abraham because of his many children and great faith in God. In his seventy four years of living he achieved; 57 years of faithful marriage, 7 children, 16 grandchildren, and 6 great grandchildren. We will forever remember the life that this wonderful, jolly old soul lived…
It goes without saying that I learned my hardest lesson about time the day I found out my grandfather died. I thought I still had many opportunities to see him. I thought he had many more years left in him. I thought that time was on my side. I thought that there would always be a next time; but I was wrong. We should live our lives to the fullest every waking moment. Cease the opportunities that are given to spend time with those who matter most to us, take time to love those who are near and dear to our hearts and make time to be with those who you care for, because you never know when that time will be your last time with them.
In the midst of solemnity, a bit of irony is displayed in the photograph below. The framed picture of my grandfather on his coffin was taken at my son's 1st birthday, which was our final moment together before he died.
I never realized that the next time I would see my lolo would be through a glass coffin. I hovered over his lifeless, yet peaceful body to give him one last hug.
"In truth, people can generally make time for what they choose to do;
it is not really the time but the will that is lacking."
My dearest Lolo, oh how I miss you so much. I know one day we'll see each other again. Until then, I take comfort in knowing that you're in the presence of our Creator. Don't give the angels too much of a hard time while you're up there, remember God sees everything ;) I look forward to the day when I can hear your Donald Duck laugh again. In His time. I love you Lolo...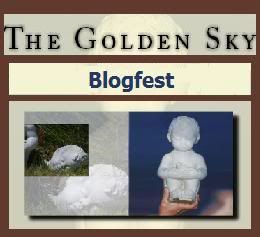 To read more stories of those who have loved and lost, visit The Golden Sky Blogfest.